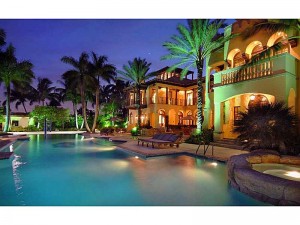 Star Island is a highly exclusive neighborhood of South Beach in the city of Miami Beach on a man-made island in the Biscayne Bay. The island is south of the Venetian Islands and just east of Palm and Hibiscus islands. It was initially owned by developer Carl Fisher, who purchased several land parcels of what would become the city of Miami Beach. It is accessible by land and barrier islands via the MacArthur Causeway. Presently, Star Island is, without a doubt, known as the most prestigious address in Miami Beach. Most appropriately named, Star Island has been called home to some of the sports and entertainment industry's most noted celebrities.
Historically, Palm and Hibiscus Island became the site of the Famous Latin Quarter Nightclub in the 1940s and 1950s. Owned by Lou Walters, father of journalist Barbara Walters, the Latin Quarter was a mid-century mecca for big-named entertainers who performed for winter crowds of tourists and celebrities arriving in Miami Beach each December. Entertainers like Frank Sinatra, Dean Martin, Sammy Davis, Jr., and Tony Bennett all intermingled with waves of high-kicking chorus girls to perform three shows a night at the Latin Quarter! Today, these two twin islands are recognized as one of Miami Beach's premiere, luxurious places to reside. Both islands have 24 hour security, share a park with lighted tennis courts, basketball court, children's playground and racquetball courts. All this nurtures the family-friendly environment of these two islands offering exceptional homes on the waterfront and equally luxurious homes on the interior dry lots.
Star, Palm and Hibiscus Islands are perfectly and privately located between the action of South Beach and the lively Downtown Miami.
Enjoy a complimentary preview of listings.Please click on the photo to see full details.
For a more personalized, advanced search, click here.