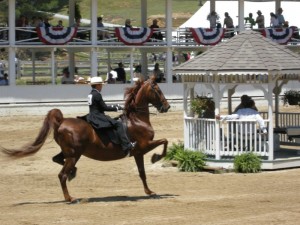 The Blowing Rock Charity Horse Show is, without a doubt, one of the High Country's most revered events.  As a horsewoman, beginning in my childhood, I am compelled to encourage novices and seasoned equestrians alike to attend this classic yet charming show of Equestrians and their magnificent horses competing for the blue ribbon.   It is certainly my favorite and I look forward to it every year.  The setting is majestic and the American Saddlebreds are mesmerizing!  There is a Hunter & Jumper Division that will also keep you in awe.
After all the thrill and excitement, there is a fair of food, goodies, gear and souvenirs to buy.  Take the whole family for a nominal fee and it all goes to support local non-profit emergency healthcare services in the area and to promote equestrian sports, education and recreation in the North Carolina Mountains. The annual Blowing Rock Charity Horse Show serves as the primary fundraiser for these activities of which I am a huge proponent.
Mark your calendars for 2015!
Saddlebred Division
June 4 – 7
Hunter & Jumper Division
July 21 – 26
July 29 – August 2
1500 Laurel Lane Blowing Rock, NC
For more information go to:    http://blowingrockhorses.com